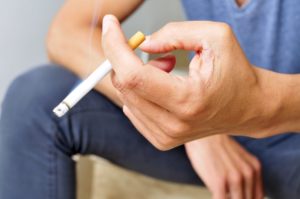 If you've lost a tooth or two over the years, dental implants are the next best thing to your real teeth. A dental implant is the only method to recreate both the root and the crown. Surgically placing a post into the jawbone serves as a new root, allowing it to stay in place forever with the right care. With over a 95% success rate, dental implants can last for 30 years or more; however, various factors affect their lifespan. Here are 5 habits you'll want to avoid to ensure your new smile thrives for decades.
1. Not Brushing Before Bed
Dental implants can't get cavities, but any remaining natural teeth are still vulnerable. Not to mention, plaque and bacteria will accumulate in your mouth. Brushing at least twice daily removes food particles, bacteria, and plaque to safeguard your investment. Although you might be tired after a long day, don't skip brushing before bed. Ideally, you should aim to brush after every meal.
2. Skipping Nightly Flossing
Your toothbrush can't reach everywhere in your mouth, like around the implants. Flossing is the only way to clean anything left behind by your toothbrush to prevent an infection called peri-implantitis, which is a leading cause of dental implant failure. Use high-quality floss or a waterflosser at least once per day to clean hard-to-reach areas.
3. Delaying Cleanings and Checkups
Besides caring for your mouth at home, regular dental care is vital for the overall success of your smile. Your dentist will monitor your oral health to detect any concerns while they are minor for quick treatment. You don't want to wait for a problem to occur to visit your dentist.
4. Grinding or Clenching Your Teeth
Your dental implants will be firmly set in your jawbone, so you'll never have to worry about them slipping or falling out. However, they aren't any match against bruxism. Grinding and clenching your teeth can cause your dental implants to fail. Your dentist can provide you with a nightguard to create a cushion between the upper and lower arches to absorb the pressure.
5. Smoking or Drinking Alcohol
Tobacco and drinking alcohol often can affect your immune system, increasing your risk of infections and delayed healing. If you smoke, it's best to kick the habit, and only have alcohol in moderation to keep preventable issues at bay, like peri-implantitis.
Your dental implants can last for a lifetime with solid oral hygiene at home and routine care from your dentist. Good oral habits and a healthy lifestyle will support the long-term success of your investment. You'll have one more reason to smile because you'll never have to budget to replace your dental implants.
About Dr. Brian Ferguson
Dr. Ferguson earned his dental degree at the University of Pittsburgh School of Dental Medicine and has regularly continued his education in advanced care, like oral surgery and dental implants. He is a proud member of the American Dental Association. If you're ready to replace your missing teeth, contact our office today to request your consultation.