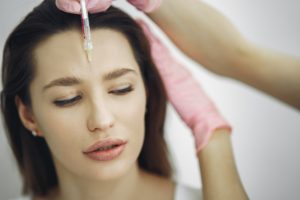 As you age, you expect certain changes to your appearance, like a few gray hairs and even some wrinkles. However, you may not have expected crow's feet and other fine lines to appear in your 20s or 30s. While you could try to cover them with makeup, it is easy to feel insecure about the lines. As you stare in the mirror, you may wonder at what age should I start BOTOX? Contrary to common misconceptions, there's not an age requirement for the treatment. Here's what you need to know to turn back the clock. 
What is BOTOX?
BOTOX is an FDA-approved treatment designed to reduce or eliminate the appearance of wrinkles and fine lines. Injecting the serum into specific areas of the face temporarily paralyzes the muscles to prevent them from contracting. As a result, it eases the appearance of lines that form when frowning, laughing, or smiling. Results can last for many months depending on your follow-up care.
When's the Best Time to Start BOTOX?
According to the American Society of Plastic Surgeons, 7 million injection procedures are performed annually, which includes BOTOX. As the number of patients seeking treatment continues to rise, more younger patients are turning to the injections to combat signs of aging. Younger generations are choosing BOTOX as a preventive measure, but when is it too soon to begin the injections? Here's when to determine if it is right for you:
In Your 20s
Smile or frown lines can develop in your 20s when making certain expressions. Typically, they dissipate when the face is relaxed; however, when they don't go away, it may be time to consider BOTOX. Many people use the injections before their 30th birthday to prevent fine lines and wrinkles from worsening. Although it's possible to be a candidate for BOTOX in your 20s, many professionals recommend wearing sunblock and using other preventive tips to preserve your youthful glow.
In Your 30s
Sun damage and frequent facial muscle movements can exaggerate wrinkles that may have appeared in your 20s. People who tend to frown often are more likely to seek treatment in their 30s to prevent premature wrinkling. Most BOTOX specialists recommend beginning treatment before your 40th birthday.
In Your 40s
The average age for BOTOX is 40+; however, various factors influence the best time to begin the injections, like your skin tone, sun exposure, and lifestyle. The dynamic of the wrinkles is more important than your chronological age when considering BOTOX.
The only way to know for certain if BOTOX is an option for you is by scheduling a consultation with your cosmetic dentist. They'll create the personalized plan you need to always look your best.
About Dr. Manpreet Dhaliwal
Dr. Dhaliwal achieved his dental degree from the University of Detroit Mercy School of Dentistry and has completed advanced training in many specialties, like cosmetic dentistry and BOTOX. If you're concerned about wrinkles or fine lines, contact our office today to request your consultation.