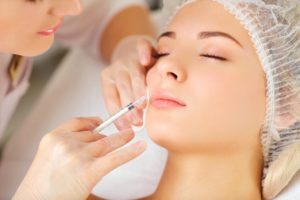 If you'd like to get rid of crow's feet, laugh lines, and other wrinkles on your face, you may have considered BOTOX injections. After all, this service is a great way to look years younger without making it obvious that you've had "work done." However, you might be curious as to whether it comes with any side effects. Short answer: yes. Longer answer: some BOTOX side effects are more common than others, but they're vastly outweighed by the treatment's benefits. Keep reading to learn more!
Possible Side Effects of BOTOX
When meeting with your cosmetic dentist for a BOTOX consultation, they might mention the treatment's potential side effects. Every patient is different, but after a BOTOX injection, it's fairly common to experience:
Discomfort – The needle used to inject BOTOX is small, but that area of your face may feel sore afterward. Depending on your general level of pain tolerance, this discomfort may persist for several hours or even up to a few days.
Redness – The area around the injection site may appear red for a few hours or days, especially if you have sensitive or light-toned skin.
Minor bruising – Not all patients bruise after BOTOX injections, and some bruise more severely than others. If you do, makeup can conceal it until it fades, which shouldn't take more than a week.
Headache – Headaches are a rare side effect of BOTOX. If one does occur, it should subside within 48 hours.
These side effects are usually short-lived, but call your dentist if they persist longer than expected.
The Benefits of BOTOX
Most BOTOX patients have gone on to say that, even with the side effects, the treatment was definitely worth it! Not only will your dentist provide tips for managing discomfort, bruising, and redness, but BOTOX also:
Smooths wrinkles in your face while preventing new ones from forming.
Gives you a vibrant, youthful glow.
Is an FDA-approved treatment that is 100% safe when administered by a trained professional.
Is a convenient, nonsurgical alternative to a facelift.
Can be completed quickly – even on your lunch break!
Schedule a BOTOX Consultation Today!
Your dentist might not be the first person you think of when you picture getting BOTOX. However, their extensive knowledge of the facial muscles makes them well-qualified to offer this service. When you visit with them for a consultation, they'll be sure to explain the process in detail and go over any possible side effects. Schedule yours today to get started!
About the Practice
At Auburn Dental Smiles, our three dentists strive to make each of their patients' lives better. While that involves basic preventive and pain-relieving care, we also proudly offer many cosmetic dental treatments, including BOTOX injections, aimed at beautifying smiles. We'll make sure you're well-prepared for any potential BOTOX side effects so that you have an easy, comfortable time taking years off of your smile. To learn more, you can reach out to our office at 253-833-2290.